AltaVista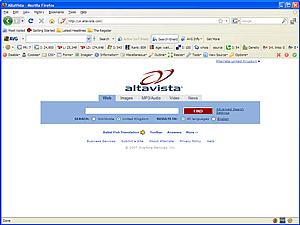 The name AltaVista means 'view from above' and this sums up the feel of this search engine. It aims to bring innovation to the search engine market and has been responsible for some of the most far-reaching innovations on the internet.
Search engine optimisation is recommended to get your site found in all of the search engines, although AltaVista is no longer a major player.
AltaVista is owned by Overture Services, Inc and based in Sunnyvale, California. It has a rich history of innovation embodied in 61 search-related patents. For more information about the rise and fall of Altavsta, see https://digital.com/about/altavista/.
A history in innovation
1995 delivers internet's first web index
First multilingual search capabilities on the Internet
First internet search engine to launch Image, Audio, and Video search capabilities
Most advanced internet search features and capabilities: multimedia search, translation and language recognition, and specialty search
Awarded 61 search-related patents, more than any other Internet search company