Search engine optimisation services in Salisbury
Cravenplan are specialists in search engine optimisation. Salisbury is where we are based and we have a number of clients who use us for local SEO, although we also work with companies who are based in other parts of the UK.
We offer website hosting and web design services as well as search engine optimisation in Salisbury, and this gives us a lot of information on what a difference internet marketing and SEO can make to the success of a website. We are constantly trying to better our SEO services, so that our clients will always get the best possible results out of the work we carry out on their websites.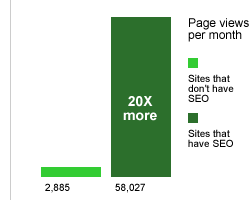 We ran a test to see how effective SEO was for our clients, by comparing the visitor numbers and page views of sites for which we had done search engine optimisation to those of sites that had had no SEO. What we found was that the sites with SEO received 20 times more page views each month than those that had not been optimised, and that they also got 16 times the number of visitors each month.
This has a dramatic effect on the number of enquires and sales your website will generate. We have clients who have sold an extra £100,000 worth of products in a year, as a result of having a well-optimised website, and there are many other success stories like this on our testimonials page.
If you would like a free no-obligation check of your site, along with details on how our SEO experts can help you achieve the goals you have for your site, complete the form on the right and one of our Salisbury based SEO team will be in touch with a free report.
If you would like to learn more about Cravenplan and the search engine optimisation Salisbury based services we offer, attending one of our free seminars is a good place to start. You can see the details of the next seminars here, you can book online or call us on 0800 135 7293 to book your place.
As our team works in our Salisbury office, we are all available should you have any questions, and we are also available on seminar days to discuss any queries you might have in greater detail.