What is Search Engine Optimisation (SEO) ?
Search Engine Optimisation or SEO is the art of making a web site appear high up in search engine results for a given subject or search term.
Why do I need SEO?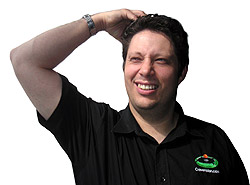 Imagine 6 billion documents in random order. Given the job of sorting them out, you'd go for the easy ones first, those that state immediately what they are. Well, its the same for search engines. They sort through and categorise all the web pages they can find.
Good Search Engine Optimisation helps them easily find the pages on your site and information on what the pages are about. The search engines can then file your pages correctly for quick retrieval when someone searches for terms related to your pages. A website with Good SEO (all things being equal) will be ranked higher than a similar non-optimised site.
We know all the places search engines give priority to and those they don't, but most importantly, we know what NOT to do. For example, many optimisers still believe that certain forms of hidden text and links are 'acceptable' to search engines; they are not! Check out Google's guidelines at www.google.com/support/webmasters.
How much is SEO?
It varies, depending on what your site needs and how much competition there is for the various terms you need to rank for. Some sites need a complete re-design, others can be optimised without changing in appearance drastically. For a detailed costing, see our services and charges, but prices start at £160 a month.
What do I get for the money?
The works! - We are a full service agency.
Full keyword research
Key phrase recommendations
Code and text optimisation
Submission to the top search engines and directories (which handle over 90% of all web searches).
Link building - following Google's Latent Semantic Indexing (LSI) guidelines.
Constant updates to ensure your site complies with the latest search engine algorithms.
Human Computer Interaction - advice on how to make more sales from your website, by ensuring it works the way visitors expect it to.
Pay Per Click (PPC) advertising - you pay each time a person clicks on your advertisements. You set a monthly budget and pay Google, Bing or Yahoo! directly.
How do I get my web site optimised?
Easy, just call Sean on 0800 1357293 or complete the form to the right of this text and I will send you a fully detailed and free report on your web sites SEO and how we would improve your search engine rankings. If you would like to discuss anything in more detail call Sean on 0800 1357293 between 9am and 5pm GMT and I'll be happy to discuss your requirements.