AllTheWeb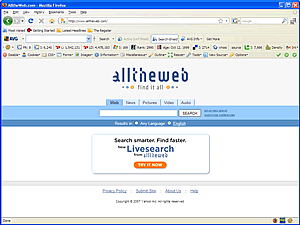 Fast Search & Transfer (FAST) created the search engine and database available at AlltheWeb and Lycos.
In their words:
AlltheWeb combines one of the largest and freshest indices with the most powerful search features that allow anyone to find anything faster than with any other search engine.
AlltheWeb's index (provided by Yahoo!) includes billions of web pages, as well as tens of millions of PDF and MS Word® files. Yahoo! frequently scans the entire web to ensure that our content is fresh and to eliminate broken links.
AlltheWeb offers a variety of specialized search tools and advanced search features, and supports searching in 36 different languages.
Our News search (provided by Yahoo!) offers up to the minute news from thousands of news sources all across the globe, with hundreds of stories indexed every minute.
Our image, audio, and video searches include hundreds of millions of multimedia files. Most importantly, AllTheWeb provides you with the controls necessary to find exactly what you are looking for, including some of the most sophisticated advanced search features available.
AlltheWeb is a business of Overture Services, Inc.