Open Directory Project (Dmoz)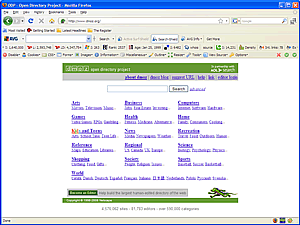 The Open Directory Project is also known as Dmoz (from directory.mozilla.org, its original domain name).
DMOZ is not a search engine. It is the largest directory that is edited by people (not by search engine spiders). This has some benefits but also causes some problems.
Because all of the submissions are checked by people who are interested in or have expertise in the field that they are editors of, the sites that get listed in DMOZ should be of the highest calibre.
However, some of the editors can be a little over zealous and will not allow sites that they do not approve of into the listings and so the waiting list for submissions is growing ever longer. Adding to this problem is the fact that everything has to be checked by hand.
The search engines are giving the DMOZ listing less weight these days, therefore it is becoming less desirable to have your site listed, but it is still worth going through the submission process anyway - just be prepared to wait a while!