Search Engine promotion & marketing - ways to promote your web site
Make your web site impossible to ignore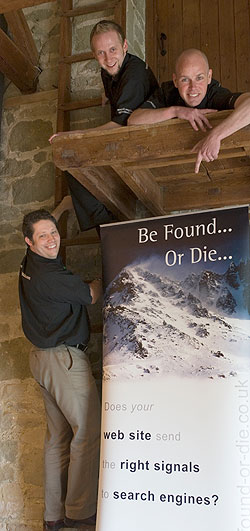 A great web site will use more than just search engine optimisation to get noticed. It will use a wider marketing strategy.
Examples of further ways to market yourself are:
Give great advice and helpful information on your website. This will encourage people to come back and visit the site again and again and builds up trust. It also establishes you as an expert in your chosen field.
Make sure ALL your staff know the web site address. People in your office should be giving the web site address to everyone they come into contact with. The site can be added to and kept up to date with things such as directions to the office, opening times and news about the company.
Make sure staff know relevant email addresses too as this can save hours on unnecessary phone calls.
Company stationery
Print your website address on every piece of stationery or written communication that leaves your business. Include it on:
Letterheads
Business Cards
Compliment Slips
Leaflets
Brochures
Christmas Cards -at Christmas you can get charity Christmas cards that help charities you support and print your companies website details in the card.
Accounting correspondence - invoices, statements and payment slips
Cheques
Payslips
Publicise your web address
You should also include your web address on:
Your shop front(s)
Sandwich boards
Till receipts
Price labels
Carrier bags
Car window and bumper stickers
LED display sign
Uniforms (embroidered or printed on fluorescent overjackets)
Print it on:
Calendars
Pay and display car park tickets
Theatre and cinema tickets - these can be a good way of targeting local people quickly
Buy a self inking rubber stamp and use it on everything you can
Outside the office you should use the web address on the following:
Company vehicles - cars, vans, lorries and motorbikes
A sign in a field (with the landowner's agreement!)
Advertising lorry
Liven up the landscape with…
Flags / bunting
Banners
Large posters
Tourist info signs, e.g. the Fovant Badges board
With the website you need to consider the following:
Identify your market - know who you're aiming at
Did you get the site professionally designed at web design Salisbury? Your website is your window on the world, it must look as professional as you are.
Look at competitor / similar websites. What are they doing? Is it effective?
Focused appeal - getting targeted traffic from the search engines is much better than a scatter gun approach
'Introduce a friend' voucher. Offers are a great way of getting word of mouth recommendations
Directions to your office - ensure people can find you
Update your web site regularly to keep it fresh
Special offers - use special offers to get new and return customers
Co-ordinate with the season and with events (Valentine's Day, Christmas, holidays)
Exclusive areas e.g. members area, journalists / media area - people like feeling special!
On-line feedback form - but keep it simple
If you have new products you should consider some of these promotion ideas:
Give-aways and free samples. By allowing people to use your products and see its benefits, they will be more likely to buy it.
Show off its features
Produce an information leaflet and distribute it widely
Telephone hold message. Instead of playing music, why not tell people about your new product and how great it is?
In conversation at social events.
Business networking clubs - a great way of connecting with business people near you.
Product user groups
Use seminars to promote the website
Put your web address on PowerPoint or overhead slides
Give talks to local clubs and charities
Training courses
Sales seminars
Domain name on Lecterns and name badges
Direct Mail - send a mail shot to selected target audience
Send cards
Send birthday cards if you store a customers date of birth
Ensure your web address is on the front of the card if possible but at least use it inside
Send anniversary cards (anniversary of the year they first did business with you)
Deliver your address
On delivery packaging - perhaps on the sticky tape used to seal the box
Franking machine message
On receipt notes
On the product itself (possibly a sticky label)
Enclose an information sheet about the website when sending out goods
Newspaper inserts
Door-to-door drops (Royal Mail can do targeted / wide area drops)
Use advertising off line to promote your website
On billboard adverts
On bus shelter posters
On local buses
Put a card in the window of your local newsagent – great for businesses with a local market
Local / specialist / trade newspapers
Produce 'fun' give-aways. This could include keyrings, badges, caps, pens, T-shirts, umbrellas, dog leads, dog jackets, coasters, mouse mats and mugs
Hold a launch event or open day. Invite journalists and special guests within your field of interest and advertise the vent locally. Hire a hall, set up a few internet computers and invite the public in to see your site! Give them free gifts - and don't forget to let the papers know!
Use a PR company
Press releases. Send updates of recent events (including launch days) to:
Local and national newspapers
Specialist and trade publications
On-line magazines (e-zine's)
Exhibitions
Take a stand at a trade fair
Visit fetes and festivals and sponsor tickets / programmes/ stalls / prizes
Things to avoid
Paid for links
International advertising for a local service
Cheap search engine submissions. You get what you pay for! Automatic software-based submissions don't work and can get you permanently banned from leading search engines.
Magazines
Get your product or service reviewed by specialist publications
Advertise in selected specialist magazines
Sponsorship
Donate money or goods in return for advertising - sponsor a sports team, charity, special event, school sports or sports equipment
Domain names - some options to consider
Register misspellings
Register variations
Use generic domain names
Register dot-com and dot-co.uk, with and without hyphens
New sub-domains - biz, info, others
Use different domains for different campaigns to measure the response
Form links with related websites
Use directories to promote your website in the search engines. You should also consider using pay per click (PPC). To help with this you should use a specialist company such as Cravenplan
Contact Cravenplan:
Chris Stanbury
Cravenplan Computers Ltd
Wilbury Barn
Swallowcliffe
SALISBURY
WILTS
SP3 5QH
Tel: 01747 858000
Web: cravenplan.co.uk
Email: mail@cravenplan.co.uk
Marketing
Spread your message with viral marketing. Viral marketing describes any strategy that encourages individuals to pass on a marketing message to others, creating the potential for exponential growth in the message's exposure and influence. A classic example is Hotmail - their free email address is publicised at the bottom of every e-mail sent by its users.
Create a campaign for e-mail marketing with a gift incentive. Buy a TARGETED e-mail list, NOT '150 million e-mail addresses for $150'. It is a good idea to start your own email list using data from visitors to your site.
Encourage people to join your site or mailing list by offering a prize draw for registrants
Put contact details and a short sales message on all outgoing e-mail signatures
Use the Internet to promote your website
On-line bulletin boards / newsgroups (remember 'netiquette' - no spamming!)
Word of mouth online should not be underestimated.
SMS (Simple Message Service)
Get an SMS list from a specialist marketing company. Mail the list with a message and prize incentive