YOU FOUND US! - We can help your customers find you!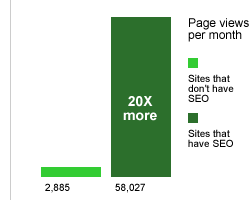 The graph looks dramatic and shows what we can do for you.
Would you like 20 times more page views than you get now?
How about 16 times more visitors
More conversions from your website?
This is what we can achieve for our clients using UK search engine optimisation. We attract more visitors to your website, boost the amount of pages they view and convert more of your visitors into customers.

Who are we and what do we do?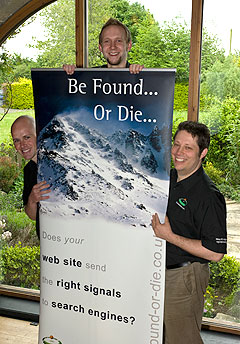 Cravenplan are an established specialist SEO company who practice ethical techniques that get you results. With over six billion pages in the search engines it is vital that your site gets found at the top of the natural search engine listings for the phrases that relate to your business. We can help you achieve this. There's no doubt that, done properly, Search Engine Optimisation and professional on-line marketing can send many more quality visitors to your site. We can help with your search engine optimisation strategy.
To speak to a Search Engine Optimiser, call our head of SEO, Sean, now on to 0800 1357293 discuss your requirements.
At Cravenplan we offer:
Search engine analysis and submission
The SEO team will research the statistics provided by the search engines about the number of people searching for different keywords. Using this information we will work with you to choose the key words that are relevant to your business and worth you trying to rank well for. These key phrases will lead visitors to your site. We will also submit your site to the search engines if it hasn't already been indexed.
We research popular Google search terms that have relevance for our clients. This means that we optimise our client web pages in such a way that people will find them.
Marketing Intelligence for your site
Our marketing intelligence service monitors your marketing activities and will show the precise origins of your online business. We can trace your website traffic back to specific search engines and keywords, web links and advertising placements. We can show you exactly where, when and how visitors reached your website. Return on investment (ROI) analysis on your total website traffic keeps you informed of the effectiveness of your site.
Research into your web competitors
Cravenplan will research your web competitors to find out what they are ranking well for and how they are achieving it.
Creating maximum appeal for the major search engines
We will make sure that your site is SEO friendly (i.e. easily crawled by spiders/robots). We will also work on building quality inbound links to your site which the search engines weigh as important when ranking a web page.

Constant monitoring
We offer a ranking monitoring and position maintenance service to make sure all the hard work of the climb through the ranks is not lost and to ensure your on-line marketing remains the most cost effective marketing money you will ever invest.
How effective are we?
From our experience we have found that sites using SEO receive more than 14X the number of visitors than those that do not. Page views also increase dramatically, with an average of 20X more for a site using SEO!
Cards for Good Causes sell charity Christmas cards. We have managed to get them to number one out of 310,000 listings for the term charity Christmas cards, and even number one for Christmas cards – taking on the likes of WH Smith.
We are happy for you to talk to our clients to gain first hand testimonials from clients of our search engine optimisation UK services.
See our case studies:
Our work with you will be in two stages
Stage one – getting started
Getting to know your business inside out
Initial keyword research
Competitive analysis
Analysing your site structure
Recommendations for on page improvements
Stage two – moving forward
Looking at your organic search traffic so that you can measure your success effectively and see which keywords you are beginning to see traffic from.
Link building
Raising your online profile
Keeping up the momentum
Exploring new online marketing avenues
Keeping up-to-date with algorithm changes
Strategy review
Growing your website
Remember to measure your success with the amount of natural search engine traffic to your site and the increase in conversions rather than concentrating purely on your website ranking.
Choosing an SEO company - warnings:
Companies that promise you the number one position in Google for a search term are making empty promises. No company or individual can guarantee this for you.
Offers of hundreds of links for a few pounds will ultimately harm your site as the practise of using link farms and other such 'black hat' techniques is heavily penalised by the search engines. Beware of companies whose own site is not in the top results for their key search terms. If they can't get good rankings for their own site, how are they going to get high rankings for yours?
Companies should work with you for the choice of key words to try and rank well for. If they dictate them they may just be choosing an easy option rather than terms that are beneficial to you. The company should be able to produce statistics on the number of people searching for each suggested term.
Checklist for choosing an SEO company:
Do they use ethical SEO techniques?
Do they do the work themselves or outsource it?
Have they achieved good results for clients in the past?
Can they provide testimonials?
Will they let you contact their clients?
Can't I do the SEO myself?
It is usually more effective, quicker and cheaper in the long run to employ someone who knows what they are doing with SEO because it actually requires constant attention. More importantly though, if it is done wrong it can harm your rankings and even get you banned from the search listings. A specialist company such as Cravenplan invests in SEO software that most individuals just wouldn't be able to afford. We also have access to a database listing over 350 million searches from the last eight weeks. That way, we ensure we are optimising our client web pages in such a way that internet users will find them. There's no point trying to rank highly for a search term that people aren't actually looking for! This is just one of the search engine optimisation UK and worldwide services we offer
At Cravenplan we have the benefit of many years of experience. The trick to effective SEO is knowledge and experience. The search engines are constantly changing the algorithms they use to calculate the rankings of websites. It is therefore crucial to keep abreast of developments.
Search Engine Optimisation should be seen as a full-time requirement if you are serious about achieving long term high rankings for your website. Stopping your SEO efforts when you reach the top spot will soon see you slide back down the rankings.
At Cravenplan we have a full-time SEO team to work on your account.
Using a specialist company will vastly improve your chances of good rankings but be aware that not all SEO companies are the same.
Note however that results will not be quick unless you use high risk 'black hat' techniques which are generally counterproductive and can lead to your website being removed by the search engines.
Paid listings v natural listings?
The paid listings are those at the top of the Google search in the cream box or at the right hand side under 'sponsored links'. Whilst using pay per click (PPC) can be beneficial, most savvy web users prefer the natural listings. PPC is a good way to generate immediate traffic to your website. It is also good for supplementing your SEO, using it for specific terms such as product names.
If you were looking to get your website redesigned and you lived in Salisbury, Wiltshire then you might use a search such as web design Salisbury. If you got results relating to website design and building in London you would be disappointed, however this is the sort of thing web users may get with paid listing results.
The natural listings are those that appear underneath the paid for results but are the ones that 72% of web users actually click on. Web users are after the most relevant site listings for their search terms and the natural listings are what return these results.
Cravenplan help you rank highly in the natural listings. Call us now on 0800 1357293 to learn how we can help with your UK search engine optimisation.
Our Clients include
Swimming Pool Covers | Engraved Gifts | Charity Christmas Cards | Skip Hire | Marquee Hire | Buy Marquees | Furniture Hire | Information Assurance | Army museums | Dyslexia schools | Vets in Salisbury | Counselling Hampshire | Artificial Christmas Trees | Miami Property For Sale | Ski Chalets For Sale

Castle Weddings |Solicitors in Swindon | Timber Supplier | Privacy Policy | Portable buildings | Sitemap | Sitemap xml
Download our advice booklets for free

Frequently asked on-line marketing questions
Download in PDF format

Ten Tips for on-line marketing
Download in PDF format