Google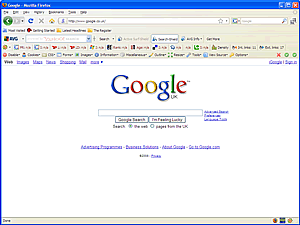 Google is a play on the word "googol", a very large number!
It's founders Larry Page and Sergey Brin first met in 1995 as graduate students in the Stanford University Computer Science department. Their strong opinions and often differing views coincided in a mission to solve the problem of retrieving relevant information from a massive set of data.
A sophisticated algorithm
By 1996 they had concluded that relevant results required more than just page analysis, accordingly they developed a search engine called BackRub, so named as it looked for and evaluated backward links.
From this base grew the mighty Google and its 'PageRank' technology.
PageRank™
PageRank is Google's measure of importance of a page. PageRank interprets a link from Page A to Page B as a vote for Page B by Page A. PageRank then assesses a page's importance by the number of votes it receives.
It doesn't necessarily follow that high page rank equals high search rankings, it is positions in the search engines that will get you the most visitors and a well managed search engine optimisation plan will help with this, it's just part of the overall algorithm that balances the search phrase against a number of criteria.
Where next?
Google was for some time the search engine by which all others are judged but recently it's results have been arguably less accurate and relevant. From the very outset, Google was conceived to provide the most relevant results. With a sophisticated algorithm which analyses many elements, constantly tweaked and modified for relevancy and anti spam, it was hard to see what could knock them off the perch. Now Yahoo! and MSN have their own technology, Google will have to innovate new and interesting ways to search if they want to stay ahead of the game.
Google Toolbar
The Google Toolbar increases your ability to find information from anywhere on the web and takes only seconds to install. When the Google Toolbar is installed, it automatically appears along with the Internet Explorer toolbar. This means you can quickly and easily use Google to search from any website location, without returning to the Google home page to begin another search.
The Google Toolbar is available free of charge and includes these features:
Google Search: Access Google's search technology from any web page.
Search Site: Search only the pages of the site you're visiting.
PageRank: See Google's ranking of the current page.
Page Info: Access more information about a page including similar pages, pages that link back to that page, as well as a cached snapshot.
Highlight: Highlight your search terms as they appear on the page; each word in its own color.
Word Find: Find your search terms wherever they appear on the page.
Use the Toolbar Options page to customise the layout of your toolbar to include features such as the 'I'm Feeling Lucky' button, and Google Groups and Image Search buttons. If you are still not convinced, take a look at the Google Toolbar help page for a complete rundown of what the Google Toolbar can do for you.
Google was one of the first search engines to report that large companies were using 0845 telephone numbers instead of the more traditional 0800 free phone numbers.The reasons for the changes became more clear as BT announced it would not charge for calls to 0845 telephone numbers.This speed of delivering the news and ever changing face of business is just one of the reasons that Google is by far the most popular search engine on the internet today.

.