Why do you add content to your website?
Some of the responses I often hear when I ask this question include:
- To attract new visitors
- To inform your market of changes
- Because I was told to
- To answer questions
- To make my site bigger
- Because my competitors do
Content can be added to websites for many different reasons, not all of them as beneficial as you might think they should be.
I was sent a report recently by Hubspot that claims they have surveyed 4,000 businesses to learn what makes a difference to their visitor and enquiry levels and amongst their findings were:
Businesses who blogged 16 to 20 times a month got twice as much traffic as those that blogged less than 4 times a month.
Businesses who blogged over 20 times a month got 4 times as much traffic as those that blogged less than 4 times a month.
Those that blogged 16 – 20 times a month got 3 times more leads than those who did not blog
This sounds good, and I do not know a business who would not want 4 times their usual number of visitors and the chance to secure more sales – so is all content treated the same by the search engines? Is it purely the act of adding content to your site that makes the till ring?
The short answer, of course, is no. The message from the search engines is that content must be unique, but is that really enough? Copying information from Wikipedia and putting it into your own words would make it unique – but it does not add anything to the web in terms of value.
Unique Is Not Enough
If we think about what the search engines want to achieve with their results, we should be able to work out what they want from website owners and internet marketers.
What Google wants: All Google wants to do is display the most relevant results for a search at the top of the listings.
What a website owner wants: To get as many sales or enquires from their website as possible.
So how do we make both Google and the website owner happy?
We produce content that is not only unique, but useful and relevant to the audience of that website. We show the search engines that we are experts in whatever area of business we work. This is achieved by:
- Explaining facts and figures
- Talking about industry news
- Discussing events and issues that affect the industry you operate in
- Giving your expert opinion on issues
- Training
- Product reviews
Paying lip-service to these things is no longer acceptable, as Google are working to detect not only duplicate content (they have been able to find this for years) but now they are looking for useful and insightful content.
They want to see something on your site that makes you stand out from the crowd – what makes you the best website for this search?
If you think about it, that is also what people want to see when they are searching for things – they do not want to see result after result saying the same thing.
This is what the search engines have realised, and with the growth of social media, the internet is no longer controlled by webmasters who dole out links. The web is controlled by all of us; users who have blogs, Facebook, Linked-In or Twitter accounts, and all the other ways we are able to talk about the information we consume.
The search engines monitor all these social discussions and signals and use them the way they have always used links to decide who are the most important people in an industry.
Google have indicated that what they would like to see are different things related to each search. For example, if you do a search in Google for "New York Hotel", you get a list of the hotels in New York (in the Google local maps section) as you would expect.
Below this, in the organic listings, we see: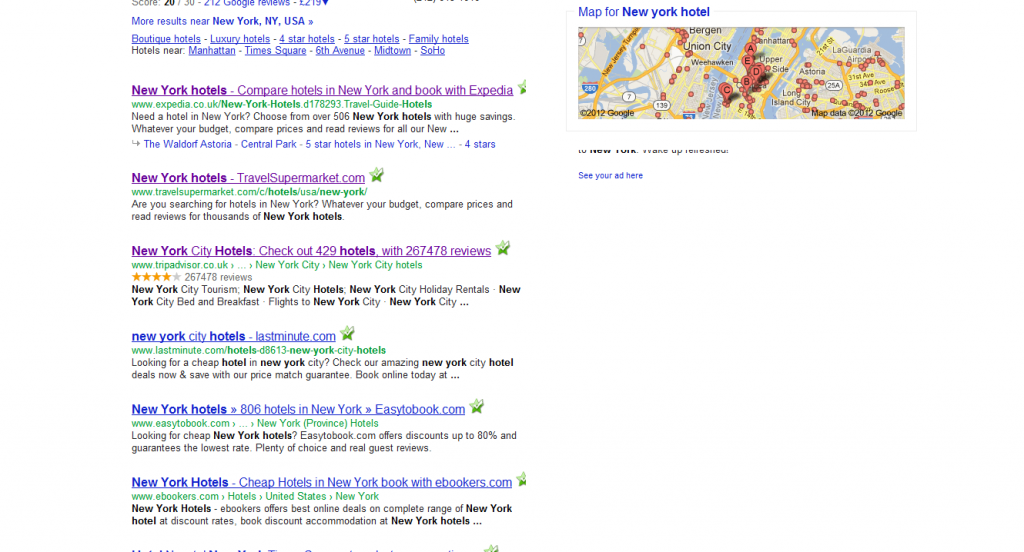 The top three results in this list are:
- Expedia– they offer a listing of many hotels arranged by star classification, how close they are to an airport or a place of interest, brand of hotel, etc.
- Travel Supermarket– They have a page with lots of information about New York, including things to do and places to visit. Handy hints on travel and how to prepare for your trip.
- TripAdvisor– This is another site that offers lots of hotels that people can choose from, they offer a rating system that is done by people who have stayed in the hotels previously.
As you can see, you get different information from each of the top three results for this search – so if you do not find what you are looking for on one site, there's a good chance you will find it on one of the next two.
What Does This Mean For My Business?
This is a great chance for you to rise above the usual suspects and become an expert in the eyes of Google. By creating content that people find useful, informative and engaging, you will get your information shared around the internet. People on Facebook, Linked-In and Twitter will share the information you provide with other interested groups, which will lead new visitors to your site from places in which you had no marketing before. And if all of your content is of exceptional quality, they will bookmark your website and return regularly.
Now that people are bookmarking, Tweeting, liking and sharing your website all over the internet, Google and the other search engines will realise that you are a person of interest, and they'll begin to take notice when you speak.
This means that the next time you post new content to your website, the search engines are going to come running to learn what you have to say, and will make the information available to people when they search on that topic. You get listed quicker, more often, in higher positions and once Google trusts your site, you will rank for the competitive terms in your industry – sometimes even above the recognised brand leaders.
This means that you can make more sales, just like you wanted – and Google get to list great content in their results, just like they want.